Same Day Dental Implants – Fort Mill, Pineville and Charlotte
Same Day Dental Implants, or Immediate load dental Implants, offer patients the comfort of having a fixed temporary crown immediately after the implant placement. At Mundo Dentistry, 70% of the front and side teeth implant replacements are performed using the immediate replacement protocol.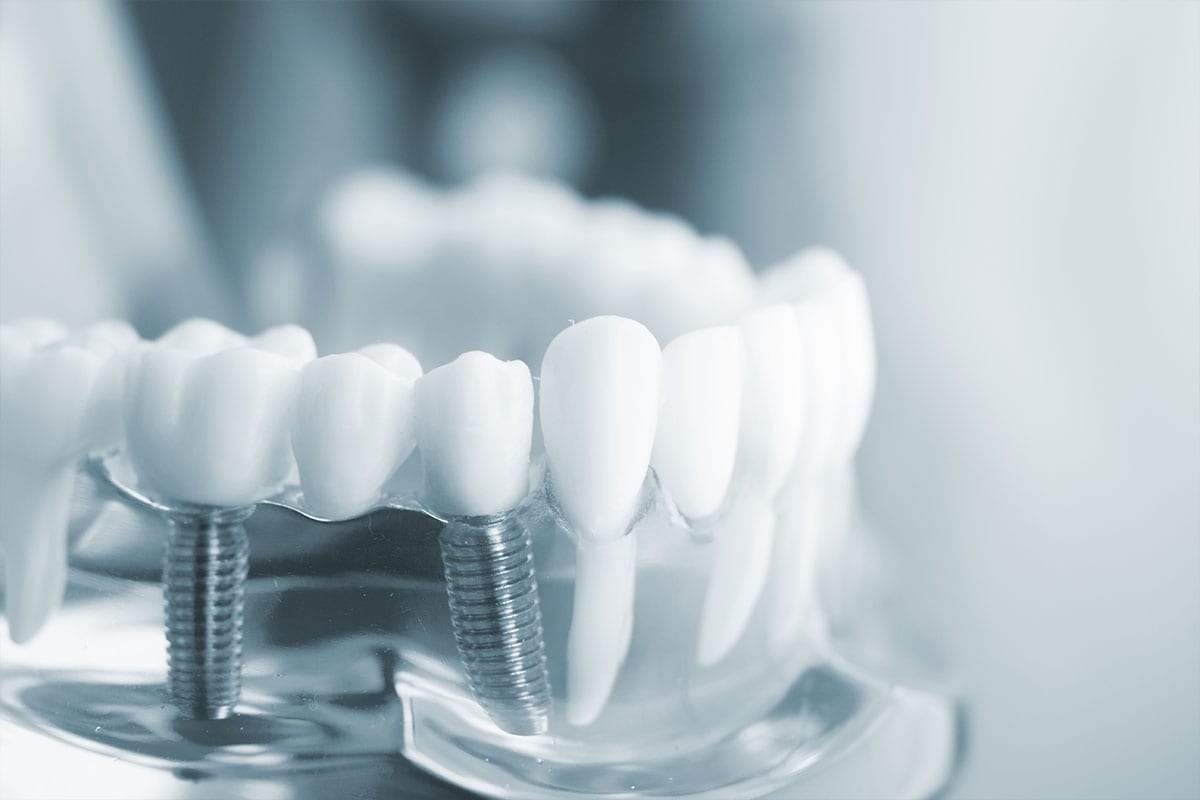 What is a Dental Implant?
A dental implant is a titanium screw similar to that used by orthopedic surgeons used by periodontists as an option to replace missing teeth. The implant stays under the gums for approximately 4 – 6 months, facilitating bone-to-implant bonding. The bone covering the implant surface, called "osseointegration", makes the screw solid enough for us to use it as a tooth. Once the implant is fully integrated within the bone, a permanent porcelain crown can be fitted.
Placing implants is a complex procedure and patients throughout the 29715 area trust us to replace their missing teeth and tooth restoration due to the stellar reputation of Dr. Matthew Howell and Mundo Dentistry. We invested in CBCT technology which enables us to digitally plan your implant placement. We can digitally place your implant and create a surgical guide which means a less invasive procedure. We know that there are multiple dental providers to choose from so our team at Mundo Dentistry are constantly looking for ways to improve the overall experience of our patients. Our office is conveniently located in Fort Mill/South Charlotte and we treat patients throughout the Carolinas, offering them the best and latest treatments to replace missing teeth with the most natural looking options.
What is an Immediate Load Dental Implant?
In most situations, it is possible to insert the implant at the same time as the extraction of the tooth. Using our Cone Beam and CAD/CAM technologies, Dentists and periodontist at Mundo Dentistry often replace a failed tooth using a surgical stent we make for you chairside. Once the tooth is removed, the socket is carefully cleaned of debris and infection so the implant can be placed into the same hole through the surgical stent. The use of a surgical stent ensures that the implant is placed in exactly the right position in an effort to allow for the perfectly shaped crown to be made for you as well. Most of the time, bone mineral graft is used to fill residual space around the implant. If implant stability can be achieved during surgical placement, our Dentist will determine if an Immediate Tooth Restoration can be attached to it.
How is Immediate Load Dental Implant different from a conventional dental implant?
3D Cat Scans are used to locate the areas of the best quality bone and allow for optimal implant placement. Mundo Dentistry offers on-site 3D imaging, necessary to ensure safety and predictability of the implant procedure.
Our implant design allows for high levels of initial stability even in situations with low density or compromised bone. This allows for patients with less-than-ideal levels of bone to be candidates for immediate implant placement.
Advanced Planning using our implant placement software allow the dentist ideally position the implant through the use of custom fabricated surgical templates. These templates are designed to remove human error during the implant placement process, and it helps ensure patient safety and implant stability.
Through the use of our Cerec Technology we are able to design and mill the perfect restoration for your same day dental implant.
Who is a good Candidate for Immediate Implant?
You are missing a tooth or teeth
You are losing a tooth and want a tooth replacement or restoration
You want to improve your mouth's function and speech
You cannot or will not wear removable dentures
Is it better to wait for the bone to heal before using an implant?
Evidence shows that a small movement of the implant (immediate loading) during healing does not impair bone to implant bonding. Also, when immediately placing an implant there is much less loss of bone around the extraction site, further preserving the natural look and feel of the gums.
Teeth in Just One Day
Final restoration of implants begins within 3-6 months after enough evidence exists that the surfaces of fixtures are covered with healthy bone. After that time, new x-rays and digital impressions are made. Fabrication of the final tooth may take up to 3 weeks, if so, a temporary tooth will be provided with a one-day dental implant. When the fabrication process is complete, the patient will meet with the doctor and try in the final restoration. There may be some final customization steps to be completed before the patient leaves with a beautiful new smile.
If you wear removable dentures or flippers you are well aware of the discomfort. Implant teeth have great advantages of removable options as a new set of fixed teeth include the freedom to speak, eat, and look great during the healing process.
You Don't Have to Live With Tooth Loss
There are distinct advantages to living in the modern world. One of these, from the dental perspective is the ability to live without having the stigma and challenges associated with tooth loss. According to the Periodontic Association of America, roughly 175 million people, of all ages, have lost one or more teeth and this number is actually expected to grow larger over time. What this has done is spurred growth in the replacement tooth industry and the revolution of dental implants. Same Day Dental implants or immediate load dental implants are a way to get the most natural looking and behaving replacement teeth. However, the standard implant procedure is not always physically viable or convenient. In this situation, the All-on-4® procedure can be a better solution.
What is All-on-4®?
Is one of the best options to replace missing teeth, basically, All-on-4® is a minimally invasive way of placing a full mouth of dental implants by only using four implants to support a full arch (upper or lower) fixed non-removable replacement teeth. Essentially what All-on-4® does, is allow you to have a full set of teeth without having to undergo multiple surgeries and replacements to place a full set of implants in your mouth. The greatest thing about this is that the All-on-4® procedure can typically be completed in our Fort Mill office during one appointment under local anesthesia. For our 29715 patients in Fort Mill, Pineville, and Charlotte, who have lost all their teeth or may need to have the remaining teeth pulled due to decay, this is an amazing advancement that allows them to have a full set of teeth without undergoing multiple procedures. Simultaneously, this solution gives our Mundo patients the kind of teeth that look real and act exactly like the original set did.
Who Should Get All-on-4®?
This is one of the simplest questions to answer because anybody who has lost teeth, and wants to have a permanent good-looking set of replacement teeth, should use dental implants. More importantly however, when referring to the All-on-4® systems, people who have lost all of their teeth or a large portion of their teeth and want to live a full and healthy lifestyle should consider replacing their teeth with implants over removable dentures. The ideal candidate for All-on-4® dental implants is someone who already wears dentures or does not want to live with lost teeth. Additionally, this is an ideal procedure for someone that does not have the bone density to support a full set of individual implants, the time to have individual implants placed, or the budget to pay for them. This procedure is faster and more affordable.
Why Do People Prefer All-on-4®?
As one of the best options to replace missing teeth, there are several ways in which All-on-4® implants are better than the dentures you currently use. All-on-4® implants are cleaned, brushed, and used exactly like your natural teeth are. They do not have to be taken out. There is no need for messy additives or uncomfortable wires to be placed in your mouth. Even more importantly for our Fort Mill patients, dental implants allow you to eat any food that your heart desires. You do not have to worry about hot or cold affecting your dentures. You also can bite down with up to 70% more force which allows you to eat the foods that you love. Finally, All-on-4® dental implants look exactly like your natural teeth. This means is that no one will be able to tell that you are wearing a dental prosthetic. From a dental health perspective, it is important to note that when you have All-on-4®, it is going to prevent for the bone deterioration in the jawbone and ultimately will work to restore your facial features by fighting resorption. Once stimulated by your new set of teeth the jawbone will send a message to the body that it is being used again to support your teeth. This will help the jawbone to regain some of the mass that it has lost previously. Many of our 29715 patients in Fort Mill, Pineville, and Charlotte, notice a difference in their facial structure as a result.