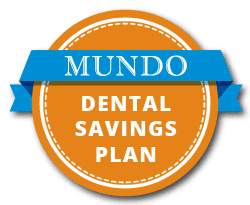 Mundo Dentistry Membership Plan/Dental Savers Plan
Our Mundo Membership Plan is designed specifically for small business owners, retirees, or individuals and families without traditional dental insurance.  
No Waiting Periods – No Deductibles – No Benefit Maximums – No Pre-Existing Condition Exclusions – No Claim Forms 
Exclusive Annual Benefits
Two Exams including Regular Checkups & One Emergency Exam
2 Regular or Periodontal Maintenance Cleanings

 

Unlimited X-rays including Advanced CBCT/3D X-ray ($400 Value)
Unlimited Intraoral Photos
Custom treatment plan 
2 Oral Cancer Screenings
Free orthodontic consult with our advanced ITERO digital scanner (separate appointment may be needed)
Up to 50% OFF All Other Treatment Needs including Crowns, Deep Cleanings, Extractions, Partials & Dentures, and Dental Implants
Up to 30% OFF Braces and Invisalign
No waiting periods, benefits start immediately, no hidden costs
Plan benefits only available at Mundo Dentistry-this plan is not part of any other insurance or discount plan.

The membership plan benefits may not be combined with insurance or any other offers or discounts.

The membership plan includes a 30-day money back guarantee. You can receive a full refund up to 30 days after purchase if no services or discounts have been used.

Our membership plan does not cover procedures completed by specialists outside our practice.

The membership plan runs for 12 months and includes an auto renewal feature. You can opt out at any time.
How Much Will It Save You?
*based on yearly contract cancellable at any time.  Membership requires a one time $149 activation fee.  If prepaying for the year then the activation fee is only $99.